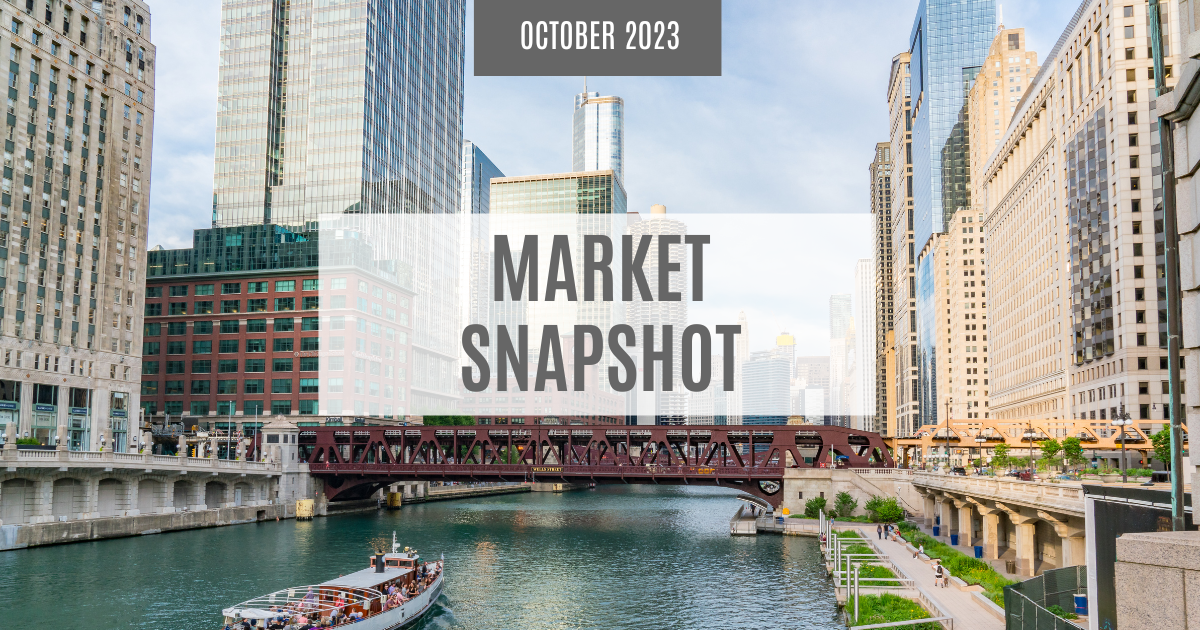 *The City of Chicago Market Snapshot represents the residential real estate activity within the 77 officially defined Chicago community areas as provided by the Chicago Association of REALTORS®.


1,621 properties were sold in the City of Chicago in October 2023. This is a 6.8% decrease from October 2022.


The median sales price in the City of Chicago for October 2023 was $320,000, which is the same as October 2022.


The City of Chicago saw listings average 57 days on the market until contract, which is a 6.6% decrease from October 2022.


STATE OF THE MARKET


U.S. sales of existing homes recently fell to a 13-year low, dropping 2.0% month-over-month and 15.4% year-over-year as of last measure, according to the National Association of REALTORS® (NAR), as surging interest rates and elevated sales prices continue to make homeownership unaffordable for many prospective buyers. Purchase activity is down significantly compared to this time last year, but rising interest rates are also keeping many current homeowners from selling, causing inventory to remain at historically low levels nationwide.


Total housing inventory going into October was at 1.13 million units, up 2.7% from the previous month but down 8.1% compared to the same time last year, for a 3.4 months' supply at the current sales pace, according to NAR. The shortage of homes for sale is making it harder for buyers to find a home to purchase while at the same time pushing sales prices higher nationwide, with the median existing-home sales price rising 2.8% annually to $394,300, the third consecutive month of year-over-year price increases.


INVENTORY


The City of Chicago's inventory is down 23.1%, from 7,607 homes in October 2022 to 5,846 homes in October 2023.


The month's supply of inventory decreased 3.1%, from 3.2 in October 2022 to 3.1 in October 2023.